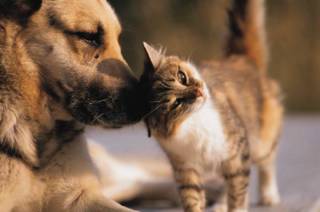 Circle Of Life -

by Ellison Fernandez
I was once a lonely animal,
Just looking for a home.
With no place to go,
and no one to call my own.
I wandered down the streets,
in the cold rain and scorching heat.
Just a lonely soul in search,
of a friendly face to meet.
My skin would itch, my feet were sore,
My body ached with pain.
They could have cared, but "What for?"
And then one day I heard a voice,
it was gentle, kind and sweet,
Arms that reached for me
And took me off my feet.
"No one again will hurt you"
Was that whisper in my ear.
"Today you'll have a home
and nothing you should fear"
"You will be dry, you will be warm,
you'll have enough to eat."
"And rest assured that when you sleep,
your dreams will all be sweet".
I was afraid I must admit,
So long I've been in fear.
I don't recall the last time
I let a human come so near.
And Daddy Leslie tended to my wounds
And bathed and brushed my fur
He fed, cared and loved me
and let me cuddle near.
He said, "We are a circle,
A line that never ends".
Today our journey begins
Not as owner and pet...
...but as friends".

-Ell
( Dedicated to Uncle Leslie - lover of animals and champion of life )